The mainstream media along with the "NeverTrump" apologists are dismissing claims by GOP nominee Donald Trump that the judge presiding over his current civil case on Trump University -- Judge Gonzalo Curiel -- is biased against him. Trump has been slammed a "racist" for claiming that Curiel's Mexican heritage predisposes him to oppose Trump's immigration policies, but it's more than simple Mexican heritage that could be cause for alarm.

Curiel is a member of the California La Raza Lawyer's Association (its San Diego chapter, to which Curiel belongs, lists the pro-illegal group the National Council of La Raza, as a community member) -- and it has also been revealed that one of the founders of the La Raza Lawyer's Association called for California to be turned into a "Hispanic State" and that whites should "go back to Europe."

Founder of Judge Curiel's La Raza Group, Mario Obledo said this: Whites Go Back to Europe, CA to Be 'Hispanic State'

"California is going to become a Hispanic state, and if anyone doesn't like it, they should leave."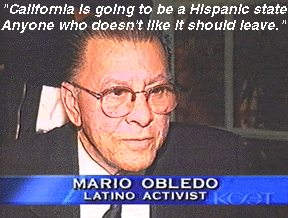 Mario Obledo was a co-founder of the Mexican American Legal Defense and Education Fund (MALDEF) and the La Raza Lawyers of California bar association, and he formerly served as California's Secretary of Health and Welfare.

During an appearance on Ray Briem's talk radio show in May or June of 1998, and again on Tom Leykis' talk radio show:

Obledo: "We're going to take over all the political institutions of California. In five years the Hispanics are going to be the majority population of this state."

Caller: "You also made the statement that California is going to become a Hispanic state, and if anyone doesn't like it, they should leave. Did you say that?"

The statements were also reported by the New York Times in their 2010 obituary for Obledo.

In 1998, for his "good work" in telling white Californians to go back to Europe, then president Bill Clinton awarded Obledo with the Presidential Medal of Freedom Award, the highest award bestowed to a civilian.